1st June 2020
---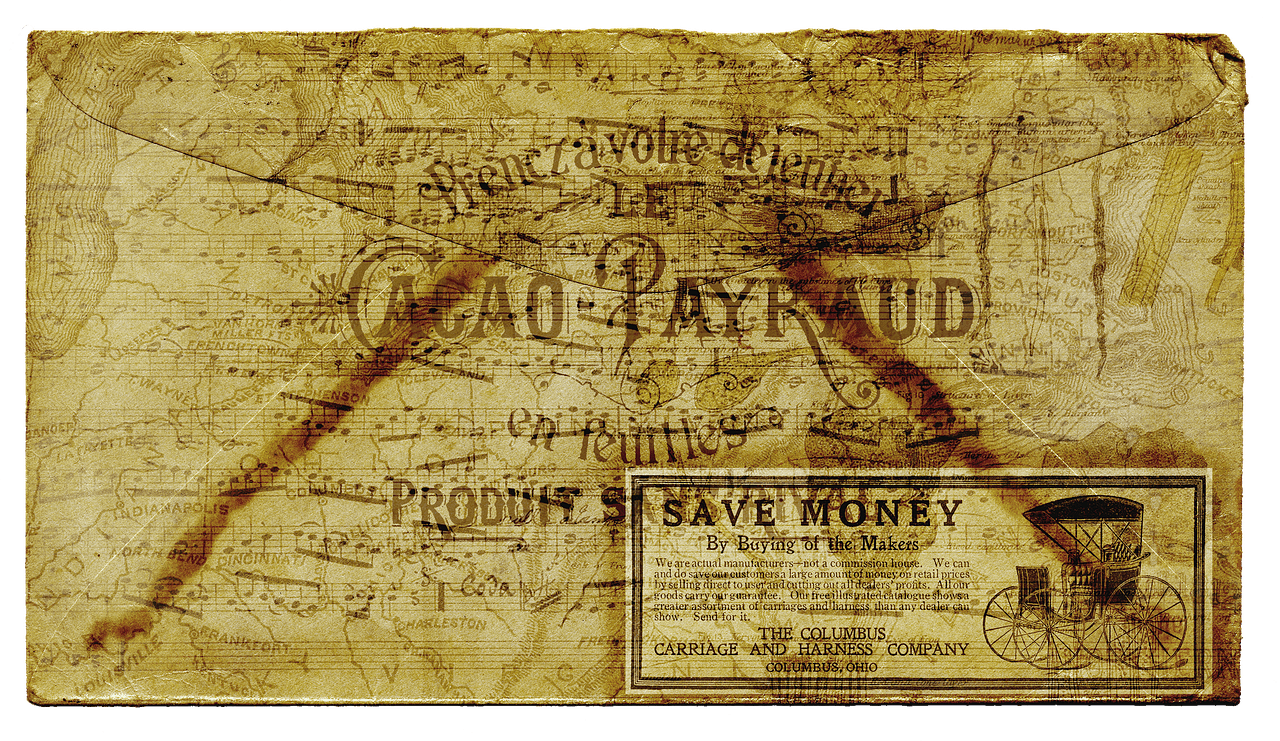 Direct mail is a marketing tool that has stood the test of time, but have you ever wondered where it all started? As a tried and tested marketing method, direct mail has evolved over many years and is still just as relevant today as it was at the beginning. We are taking a detailed look into the history of direct mail and how it has evolved and improved over time.
Early Direct Mail
A primitive form of direct mail can be traced all the way back to ancient Egypt. In 1000 BC, an Egyptian landowner used papyrus to write an advertisement which offered gold in return for a slave that had run away. It is the first known example of direct messaging and it can be seen on display at the British Museum.
The Egyptians were not the only ancient cultures to try out these methods of communicating, with Babylonian merchants using stone tablets for advertising their products.
Printing and Mass Production
The path to more modern direct mail was aided hugely with Johannes Gutenberg's invention of the printing press in 1440. During these Renaissance times, the technology spread very quickly across all of Europe. By 1480, William Caxton had produced printed pamphlets, advertising his printing press set up in Westminster Abbey.
The technology continued to expand, and soon direct mail was in mass production thanks to faster production processes. Aldus Manutius of Venice produced the very first printed catalogue and by the 18th century, catalogues for gardening produce and seeds were being distributed widely. William Lucas was responsible for the first catalogue sent in the post, and Pryce Pryce-Jones began mailing to customers nationwide.
The growth of postal communication was enabled by the Uniform Penny Post reforms (where the sender, not the recipient, paid for postage) and a growing railway network which enabled efficient transportation of mail throughout the UK.
Across The Pond
Aaron Montgomery Ward is considered to be a crucial innovator of direct mail and the mail order process in the US and was quickly followed by pioneer Richard Warren Sears who set about growing his business by mailing flyers to customers advertising his watches for sale.
Direct mail enabled businesses to market their products and services much farther afield than ever before and with it laid the foundations for modern internet stores which deliver goods via online shops.
Before direct mail, these customers had limited choice dictated by proximity to local shops, but now they could be directly reached. It meant that customers across the country had access to many more products and often at much lower prices than in local high street shops.
The Digital Revolution
Just like the printing press revolutionised direct mail in the 15th century, the invention of the computer brought about the next seismic shift in the history of direct mail.
When computers began to be introduced in the 1950s, it completely changed the way direct mail was used as businesses realised the potential of this new technology.
Over the next twenty years, people got to grips with what computers were capable of and the huge potential they could offer to the marketing industry. In the 1970s, bold graphic design and bright colours were starting to gain popularity. This led to far more eye-catching and effective adverts for direct mail and meant businesses could start building brand identities.
Computers not only meant that advertisements were more attractive and easier to produce, but allowed businesses to build a meaningful database of customers. They could store their customers' names and addresses, which lead to more personalised messaging and targeting.
Database accessibility, combined with the rise of digital printing, meant personalised direct mail prevailed. Traditional offset printing methods meant that all direct mail messages were identical, but digital printing meant businesses could personalise with names, addresses and much more. Read this post to see how far personalisation has come as an essential component of direct mail.
Advancing Technologies
Direct mail went from strength to strength as new technologies surrounding the computer were invented. The development of data processing and detailed reporting tools meant that businesses were able to analyse a customer's purchase history and buying habits. This meant they could create detailed customer profiles and begin to understand their requirements as a buyer more clearly.
Businesses began to use this data to target specific markets and customers, resulting in increasing returns on investment. This idea of segmentation of customers and high targeting has become a vital part of all aspects of marketing, not just within direct mail.
Alongside the development of computers, other machine technologies advanced and opened new opportunities for direct mail. New printing processes allowed for high-speed automation, making the entire printing process much quicker, easier and cheaper.
New print finishing methods were developed, such as special coatings, perforation and advanced folding; allowing marketers to make their material unique and engaging for their customers.
Omni-channel Integration
In recent years, direct mail has worked more closely with other technologies such as email, social media and paid advertising, in order to drive higher response rates.
New technologies have resulted in these once wholly separate methods becoming linked; whereby an action picked up in one channel can trigger an action in another.
A good example of this is QR codes that can be printed onto mailing pieces which when scanned direct the user to a personalised landing page on the advertiser's website.
Alternatively, the trigger and action can work the other way with an online action, such as when a customer 'abandons cart' whilst in the process of purchasing from an online shop. This process can trigger a personalised piece of direct mail being automatically printed and posted within hours.
The introduction of electronic, barcoded mail delivery (Mailmark) has enabled detailed reporting on the progress of mail as it passes through the sortation process as well as providing accurate delivery dates that marketers can use to coordinate other forms of marketing such as follow up sales calls and timed emails etc.
It is now widely accepted that print marketing such as direct mail should be used as a strategic partner to digital advertising methods rather than competing against them. It allows businesses to produce integrated, highly responsive campaigns which are more effective than ever before.
Looking to The Future
As new technologies and advances are made, CMS Direct Mail will be at the forefront of innovation to create the most effective direct mail campaigns for your business. Find out more by getting in touch with our team today.