Door Drop – Low Cost Delivery Option
Sometimes you just need to get printed material in front of as many people as possible or you don't have an address database of previous/prospective customers. In these situations many businesses already take advantage of the benefits of door drop mailings to advertise their products or services.
Door drop involves printing (and optionally enclosing into an envelope/polybag) marketing material and boxing ready for distribution to select postcode areas. The delivery can be done by Royal Mail door-to-door service or by using a local leaflet distribution company.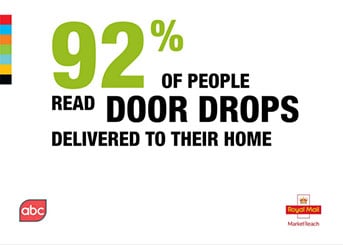 Trust The Experts
CMS Direct Mail can arrange everything for you – just tell us what to print and which postcodes/areas you would like to target.
Significant cost savings can be achieved on both fulfilment and postage by removing the personaliastion (address data) of individual envelopes/mailing pieces.
When Should I Use Door-Drop?
Door-drop mailings are ideal for business-to-consumer marketing targeting the general public or for local businesses and organisations that want to reach out to as many people as possible within the local area. Good examples of these would be furniture retail or local restaurants and garden maintenance services. Door-drop mail is unaddressed and can be considered a blanket covering of your message to one or many specific areas.
If your product or service by nature has a more precise target demographic – you will almost certainly benefit from a more personalised approach to distributing your marketing material. In these circumstances, the more targeted your mailing is, the higher your ROI will be.
Contact CMS Direct Mail Services today for a quick quotation or expert advice. We look forward to working with you.